TOTH Workshop in Castelló, Spain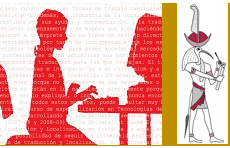 Terminology and e-dictionaries
17th NOVEMBER 2017
Registration: 20 euros (until November 10) / 25 euros (from November 10).
Payment by card.
Includes: coffees in the pauses and cocktail-dinner 17th November at Casino Antiguo de Castellón
Registration forms:
Inscripción (ES) / Inscripció (CAT) / Registration (EN)
Workshop Venue
If you are staying at Hotel Luz or Eurotel Castellón, you can take the tram (trolleybus) or a bus in front of the Train and Bus Station.
From here you can reach the UJI in less than 10 minutes. There is a tram every 10 minutes approximately. Single tickets can be purchased directly on the tram. The price of the single ticket is 1,05€. If you prefer to walk, it will take you around 30 minutes to walk to the Campus from the train station. You can also take a taxi from the southern gate of the Train Station.
The tram and the buses stop in the Agora of the University, the main central square of the Campus. You can reach the Faculty of Humanities and Social Sciences by crossing the square.
The Conference will take place at the Aula Magna (room HA1012AA), located in the ground floor of the building. If you access the Faculty through the main entrance you will see easily the directions to get there.
Information about hotels: 
We have booked a number of rooms at Hotel Luz (reduced prize 63 € until 29 October). To make the reservation you must send  email to uji@viajeseci.es with:
Check-in date
Check-out date
Type room (Single room or Double room)
People  (name /surname) staying at the hotel
Contact phone number.
If you have any question about hotels please contact with Merche Mey  uji@viajeseci.es.
Cómo llegar al campus de la Universitat Jaume I