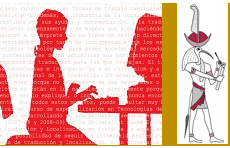 TOTH Workshop in Castelló, Spain
17th NOVEMBER 2017
Terminology and e-dictionaries
Registration: 20 euros (until November 10) / 25 euros (from November 10).
Payment by card.
Includes: coffees in the pauses and cocktail-dinner 17th November
Registration forms:
Inscripción (ES) / Inscripció (CAT) / Registration (EN)
Information about hotels: 
We have booked a number of rooms at Hotel Luz (reduced prize 63 € until 29 October). To make the reservation you must send  email to uji@viajeseci.es with:
Check-in date
Check-out date
Type room (Single room or Double room)
People  (name /surname) staying at the hotel
Contact phone number.
If you have any question about hotels please contact with Merche Mey  uji@viajeseci.es.
Cómo llegar al campus de la Universitat Jaume I